With a zest for life and an insatiable quest for hair-raising experiences, 44-year-old Minnesh Ramdhany, a Senior Account Executive at Vodafone Global Enterprise, lets us in on his style secrets and tells us how his beard – dubbed a 'spiritual experience' – has helped him command respect and attract a different set of dating prospects.
How would you describe your personal style?
Retro-metro sexual. Growing up, I was heavily influenced by both my grandads. My mum's dad always wore a suit with a handkerchief peeking out from his breast pocket and no tie. He also always had a comb on hand. My paternal grandfather was very retro. He loved his suede shoes and cardigans.
I dress to suit my mood and the occasion, and play with colour and textures. I think of clothing as a sort of 'protective cloak' so they must be comfortable to wear. I prefer to set the trend rather than follow all trends especially those that don't suit my body shape.
What does your dressing and personal grooming style say about you?
The way I dress certainly makes me come across as more confident and self-assured. Some say I'm a 'classic' kind of guy, but I would like to believe that my dressing style communicates that I'm agile, flexible and a 'go-with-the-flow' sort of person.
How do people react to your beard and how has it changed their perception of you?
Mmm… My beard has been the biggest 'spiritual experience' of my life. I started growing it about 2-3 years ago, and people hated it at first. After the first six months, when I had figured out how to care for it, they started reacting differently – positively! Different people started taking a liking to me and I began attracting completely different types of women. White foreign women love it, while South African Indian women seem to disapprove. A lot of people mistake me for being Muslim, and I noticed that many religious people treat me with a lot more respect. They offer compliments and ask lots of questions.
Tell us more about your grooming routine.
Well, every second week I have my hair kept in tip-top shape by one of the various celebrity hairstylists in Joburg. They experiment with trends and recommend specific treatments based on what my hair needs at the time, and give advice and product suggestions. My beard is more time-consuming. For beard trimming, I'm a regular at IsJon in Sandton, and for a bit of extra care I go to a Turkish-Egyptian guy who uses different oils – including Moroccan oils – and wax as part of his treatments. Then, I go to a lady named Aadila, owner of Body Sphere, who threads my eyebrows. Yes, I do threading and I'm proud of it!
Day to day, my grooming regime is as follows:
Wash
Shampoo and conditioner – for softness – are both part of my ritual.
Try our London Grooming haircare products>>
Dry
I use a hairdryer to quickly dry my head of hair and beard, and use a wooden comb to combat static.
Style
To keep every strand in place, I use gels and hairspray, but I use a moustache wax on my beard to care for the skin underneath.
In your opinion, what's your best facial feature and why?
Definitely my eyes – when I'm not wearing my glasses. They earn me a good few compliments especially after I've just had my eyebrows threaded. Oh, and friends have mentioned my "infectious smile". Apparently, I need to "smile more".
How do you choose hair and skincare products?
Organic and natural stuff is my first choice. I have sensitive skin so to avoid bad reactions I'm always cautious about what I apply, and this is where my therapists' suggestions are valued most. Fragrance is also important and I prefer it being complementary to my perfume.
Are you keen to try our imported range of London Grooming products?
I'd love to try London Grooming haircare products with tea tree oil and even the London Grooming beard oil
These seem very 'new-age' and tick all the right boxes. Even better if they cater to my specific needs.
How do you keep physically fit?
Let's see… I do yoga and meditate to maintain a calm demeanour and remain centred. I take long walks and hikes for fresh air, I've joined Zumba dance classes, and I gym once or twice per week. I'm also a true dare-devil. Would you believe that I've gone swimming with piranhas in Brazil?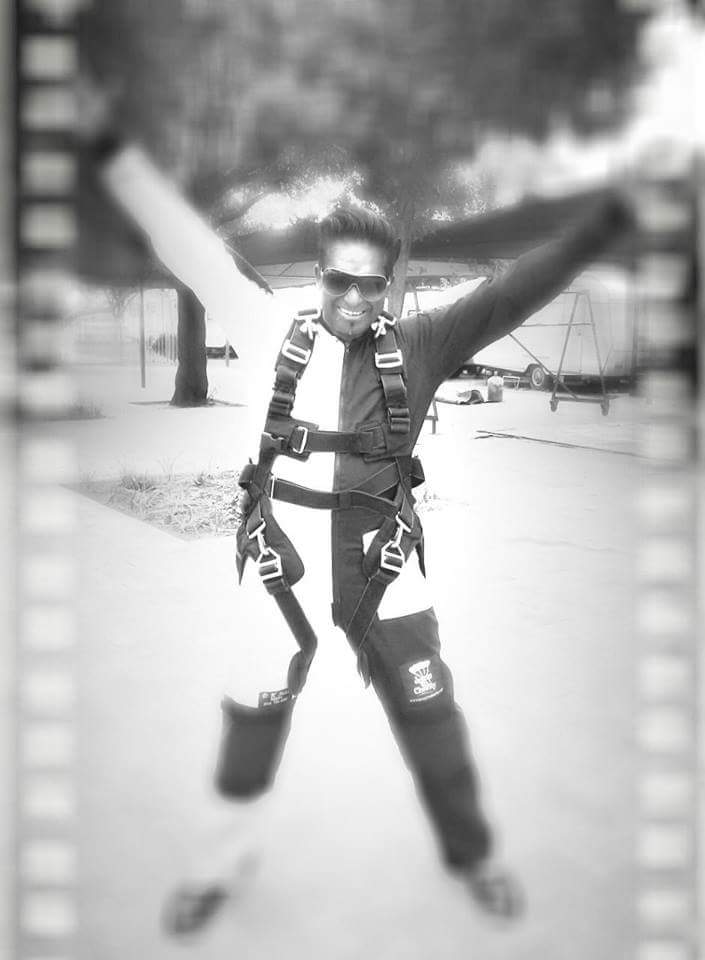 What are your thoughts on anti-ageing and how do you maintain such a youthful appearance?
So I've always had a pact with myself that I would look ten years younger than my actual age at any given time. Sure, I don't want to be an old man trying to act young but I'd like to dress age-appropriately and age gently. I use anti-ageing products around my eyes, and on my hands and neck because these areas show the first signs of ageing.
Most guys my age look like they're much older. Maybe it's just the effect of stress due to life, career, marriage and kids, but they really need to take better care of themselves.
That's a great suit you're wearing. Where do you shop for clothes?
I don't! Seriously, all my suits are tailored for me. About 15 years ago, I started commissioning bespoke suits from tailors abroad; Vietnam, Thailand, Hong Kong and India. I watch Fashion TV, scout for trends and then email pics to the designers, or they email me with ideas based on the latest international menswear trends. They have my measurements on file so they make up suits according to my preferences and ship them to South Africa. One of my favourites is Henry's Collection in Vietnam, while locally, I follow Frank Bespoke just to keep an eye on trends here.
What's your opinion on South African men's style and grooming?
I have a major problem with the fact that most South African men don't take care of themselves – especially the older generation just before the millennials. My mum used to tell my dad to change his shirt or trim his stubble, but nowadays, women don't seem to put their men in line. I've even heard some women say that they want to look better than their man, which just doesn't make sense.
I'd like to see South African men keep up with other men globally. Men here think that dressing well will put them in a negatively stereotyped box, but it doesn't! Take some pride in how you look and spray a bit of expensive perfume. Small things can make a big difference to how you're perceived.
What do you do for fun?
Travel motivates everything in my life. I also love good food so I'm always visiting new restaurants and I treat myself to a theatre production twice monthly. My Sunday routine starts with breakfast in Melville followed by a trip to an art gallery, flea market or art nouveau movie.
I think that I love animals more than humans so you'll often find me at the SPCA or helping out at other safe-houses for abused animals. Did I mention that I love wolves?? They're such mystical, misunderstood creatures. The leader – the alpha – leads the pack from the rear. It's so interesting, so clever… From this position, he can see everything, control everything and decide the direction.
I'm a wolf.
How lucky can one bloke be? Forget sheepskin! Minnesh Ramdhany is a wolf dressed in fine fabrics and blessed with a strategic mind which he applies outside the boardroom to carefully calculate his approach to personal grooming. Over the years, he's relied on his innate instincts to seamlessly transition between many faces; bravely bearded, clean shaven, and everything in between but it's his equally admirable ever-evolving sense of self which puts him ahead of the alpha man pack.