Behind every stylishly groomed man, is his equally (if not more) stylish female counterpart. While the fairer sex may prefer using a rose or vanilla scented moisturiser, there's nothing wrong with helping yourself to some of your husband's or boyfriend's grooming products when you've reached the very end of your overly priced 'miracle' jar of youth-enhancing fluid. Women are unfortunately subjected to pink tax, and often pay more than men for the same self-care products.
In honour of Women's Month, we at The London Grooming Company have very generously opened our bathroom cabinets to our better halves. So ladies, if you find yourself in a fix – without any of your personal beauty favourites – or if you want the same high-quality creams and cosmetics for less, here's how you can take advantage of men's grooming products.
PRIMP WITH POMADE
Hide those unhinged fly-aways and stubborn stray hairs with men's pomade. Skip the steely and inflexible crust caused by hairsprays, and slick a pearl of The London Grooming Company strong-hold pomade through your locks to create a glossy finish that's easily malleable and soft to the touch. Leaving no greasy residue, it's also water-soluble and easy to rinse out.
GET A CLOSER SHAVE
Girly packaging, quirky fonts, cute logos and feminine taglines come at their own separate cost. Trade your Barbie-pink razor for a more masculine and sharper-angled men's version. Not only will you save money for more important things – like Fenty highlighter – but you will also get the closest shave and legs smoother than a Victoria's Secret model.
BEARD OIL ISN'T JUST FOR BEARDS
Running low on your hyaluronic acid-enriched moisturiser or argan face oil? There's no need to panic and make a last minute dash for the cosmetics store in your pyjamas. Instead, smooth some of your significant other's beard oil onto your face. This gentle formula deeply nourishes your skin and moisturises skin cells. In fact, you will probably enjoy its luxurious silky effect so much, that you won't ever want to buy your formerly loved and far too costly face cream again. Smelling like your boyfriend/husband is just an added bonus.
CREATE BEACHY WAVES WITH SEA SALT SPRAY
Achieve that sultry, rolled-out-of-bed look with The London Grooming Company sea salt spray designed to give your tresses sexy, voluminous waves, without drying it out. Spritz sea salt spray on different sections of damp hair, then lightly twist or scrunch your hair around your fingers. This helps the curling process and turns lethargic locks into alluring, beachy waves.
PRIME YOUR SKIN WITH AFTERSHAVE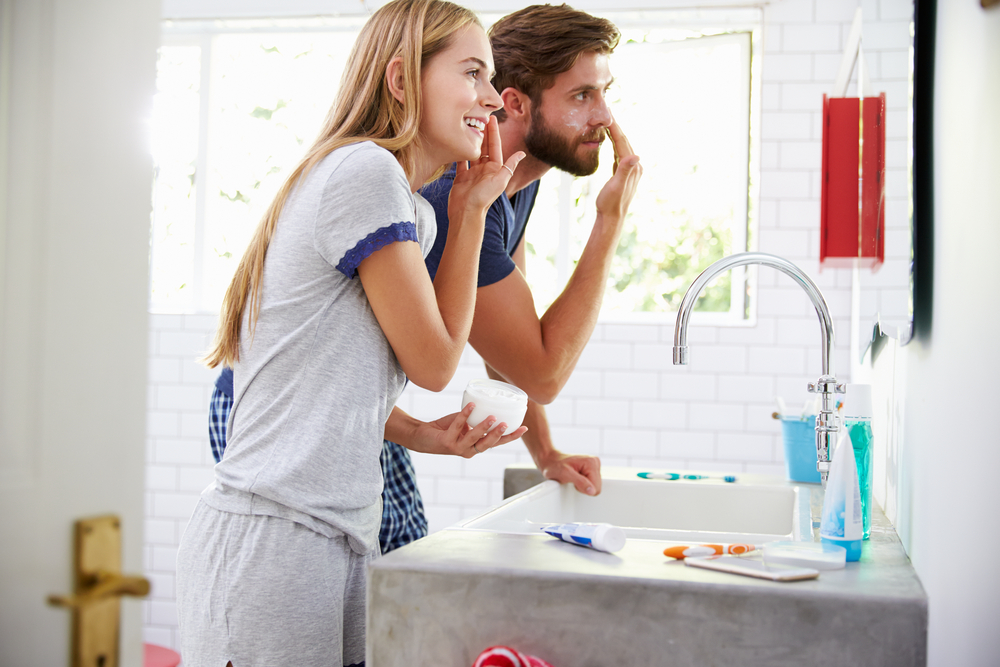 A good-quality primer from a luxury beauty brand can set you back at least R500. Using a men's aftershave balm will do the same job – more economically. Our lightweight aftershave balm and skin moisturiser is perfect for priming your skin before applying foundation and creates a smooth, matte finish that keeps your base on and your skin oil-free. The heady oud wood scent will also add an element of sensuality.
Now that you've been briefed on the ultimate guide to using (or stealing) your man's grooming kit, you won't ever be left with dry skin or out-of-place tresses.
On a side note: If your boyfriend gets suspicious about his rapidly-depleting products, you can always convince him to buy two of each 😉