We've all been there; assuming an air of nonchalance while perusing the haircare aisle for what seems like hours, adding a few hundred more steps to your Fitbit as you try to figure out which hair products are right for you. Buying the wrong product for your hair type can actually have adverse effects, turning a bad hair day into an entire decade.
At The London Grooming Company, we offer private browsing and queueless shopping in the comfort of your home, away from the judgy eyes of store clerks and customers, and most importantly, our high-quality products are sophisticated, authentic, sulfate-free and made exclusively for the discerning gentleman.
As grooming connoisseurs, we understand how different types of hair react to different products, so before you have an impulsive 'add to cart' moment, wade through our expert advice on which London Grooming Company product will suit your hair.
STRAIGHT HAIR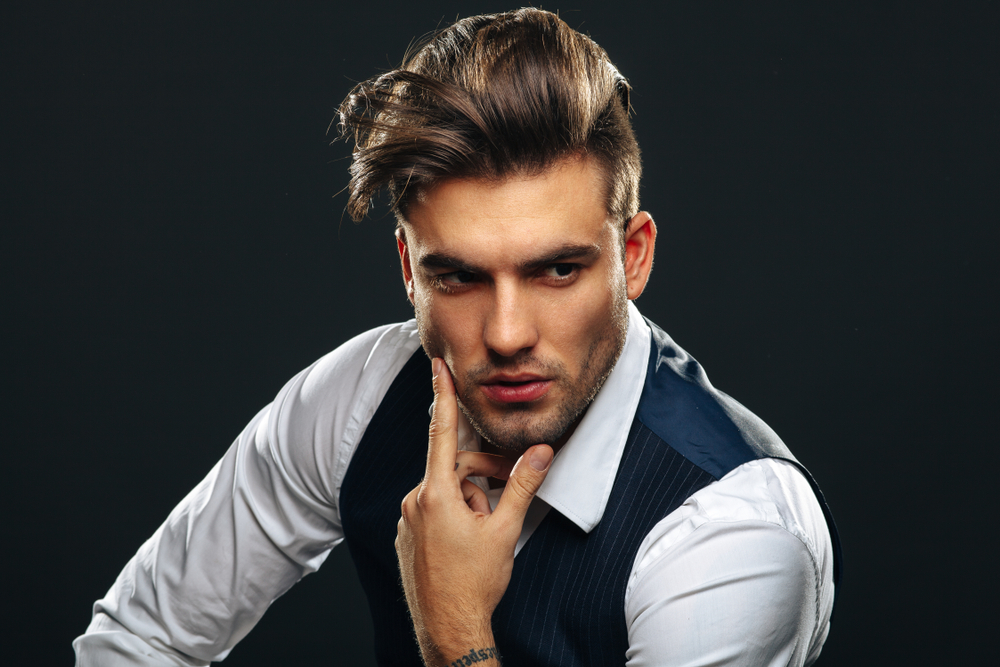 While some may define straight hair as boring and nondescript, your options are unlimited; they're all just secretly jealous of your linear locks. Almost any type of hair product works for straight hair, depending on the style you choose.
DOs:
Start off on a clean slate by using our

 

tea tree shampoo

 

and

 

conditioner

 

to cleanse your hair of oil and impurities.

An excellent way to add volume to your barnet is by aiming a hairdryer at it, in the direction you want to style it. 

For a modern combed style with a high-gloss finish, try The London Grooming Company pomade
If you prefer a more matte look, use our hair clay which also enhances thickness and definition.
Add a mist of hairspray to set your style in place (Yes, you can you use your girlfriend's bottle).
Swap your gel for pomade, as it can be easily restyled and doesn't cause that cringe-worthy 'crunch factor'.
DON'Ts:
If your hair is more on the thin side, avoid heavy formulas that may weigh it down.
Try a lightweight water-based product instead, like our medium-hold hair creme
Use all products sparingly, as too much can cause your hair to look greasy, flat and listless.
WAVY HAIR
The more luxurious of hair textures also tends to be a lot drier. Selecting the correct grooming products will give a dull and tedious mane an 'Aquaman' makeover. Jason Mamoa = Ultimate Hair Goals.
DOs:
DON'Ts:
Using a hairdryer may amplify your natural volume. If you do need to dry your hair in a hurry, add the diffuser attachment, which will minimise frizz.
Steer clear of styling aids that dry out your waves, such as gels, clays and hair wax.
Don't use a wide-plate flat iron to straighten short hair, as you may singe your scalp or face. Try a mini flat iron instead and always use a heat protection spray or serum beforehand.
CURLY HAIR
To outsiders, your hair may indicate a carefree, bohemian lifestyle, however, our curly-haired comrades can transform their look from cool to classic or conservative in minutes when equipped with the proper styling products and haircut.
DOs:
Shorter lengths will benefit from using our strong-hold pomade which adds elevation and sleekness.
Choose pomade over wax, as the creamier formula preserves your lush curly, texture.
Use our hydrating conditioner a few times a week to lock-in moisture and combat dry scalp.
The London Grooming Company hair clay will diminish any sign of stubborn strays and maintain a semi-matte finish.
Curly hair will benefit from our texturising hair creme which ideally separates strands and adds a natural sheen, while also conditioning your mane.
DON'Ts:
Avoid keeping your hair at the same length. Choose a barber that understands your hair type and gives you a cut that removes excess weight while reserving natural movement.
Refrain from vigorously and heavy-handedly rubbing your hair dry with a towel, as this causes hair breakage. Gently pat it dry with an old cotton t-shirt instead. This protects curly hair from damaging dryness.
Say farewell to gels and waxes and use sea salt spray as an alternative. This allows curls to hold their natural shape without that hard, inflexible texture. A few spritzes on damp hair will have you channelling your inner Jon Snow.
Now that you've got the right grooming products and tools for your hair type, it's time to simply comb, apply, style and conquer!